sign repair and maintenance
Even the highest quality of signs can begin to show their age after long enough. The harsh elements of nature can really wear down your companies sign. If your sign was damaged during storms or has lost its shine, Bluegrass Sign Group can help. We offer sign repair services for businesses of all sizes. Our team is experienced with every type of sign and we can have your sign repaired quickly and efficiently.
We understand that business signs are essential for any company. Having a top-notch sign reflects positively on your business, and we pride ourselves on providing top-notch sign repair services.
We offer a variety of sign repair services, including:
Electrical Sign Repair
Storm Damage Repair
Structural Repair
Neon or LED Replacement
Vinyl Replacement
Sign maintenance and repair
Interior and exterior signs
Outdoor sign repair
No matter what type of sign you have, our team can help. Our licensed technicians are highly trained and experienced. We have years of experience repairing every type of sign, from Shopping Center Signs to Monument Signs to Church Signs and Electronic Message Center Signs. We have the equipment we need on hand to complete the job quickly and efficiently.
If your sign was damaged and you are looking for a local sign company, give us a call at Bluegrass Sign Group. We'll be happy to help you get your sign back up and running as soon as possible.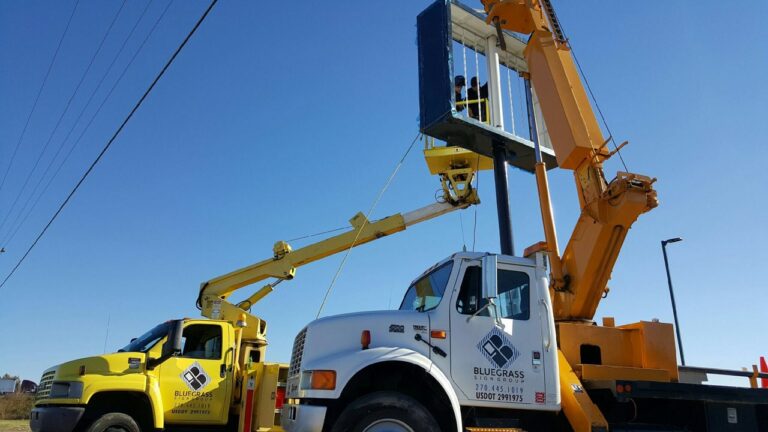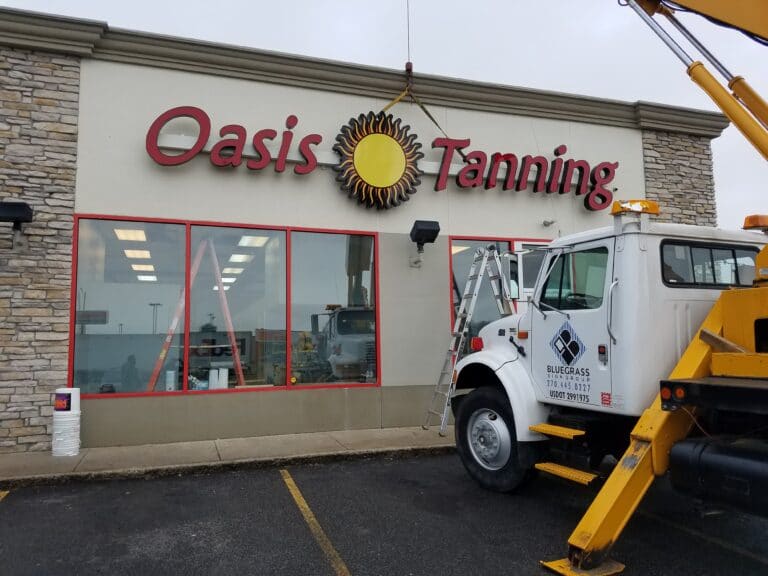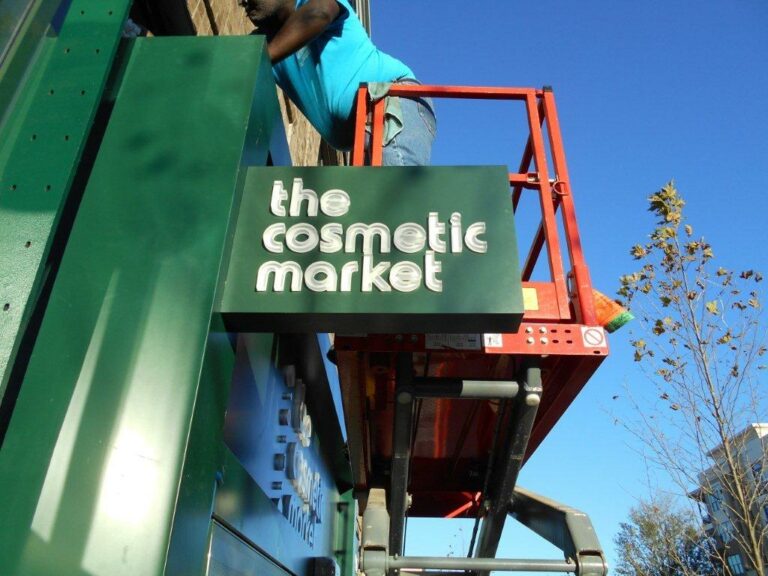 Sign Installation Kentucky
Do your customers see what you want them to when they look at your sign?
A sign provides a first impression of your business, and it should reflect current standards. The team at Bluegrass Sign Group can help make sure sign projects are done right for businesses and churches in Kentucky since 2011.
When you work with our sign shop, you'll benefit from our expertise in sign installation and sign manufacturing, and sign repair. We're a licensed sign company that caters to businesses just like yours, working hard to ensure that what you see is exactly how you want it.
We have extensive knowledge on signage regulations, so you can be confident that the sign project we complete for your business will be done according to all of Kentucky sign codes. Plus, our experience in sign design lets us help you with anything from sign ideas to sign installation .
At Bluegrass Sign Group, we believe all sign projects deserve personalized attention. That's why so many local businesses have turned to us for help with their sign needs. We would be proud to add you to our list of satisfied customers, so contact us today!